Check out President Stephanie Kress's podcast debut
AALNC Blog
Tuesday September 15, 2020
TAANA 2020 Virtual Conference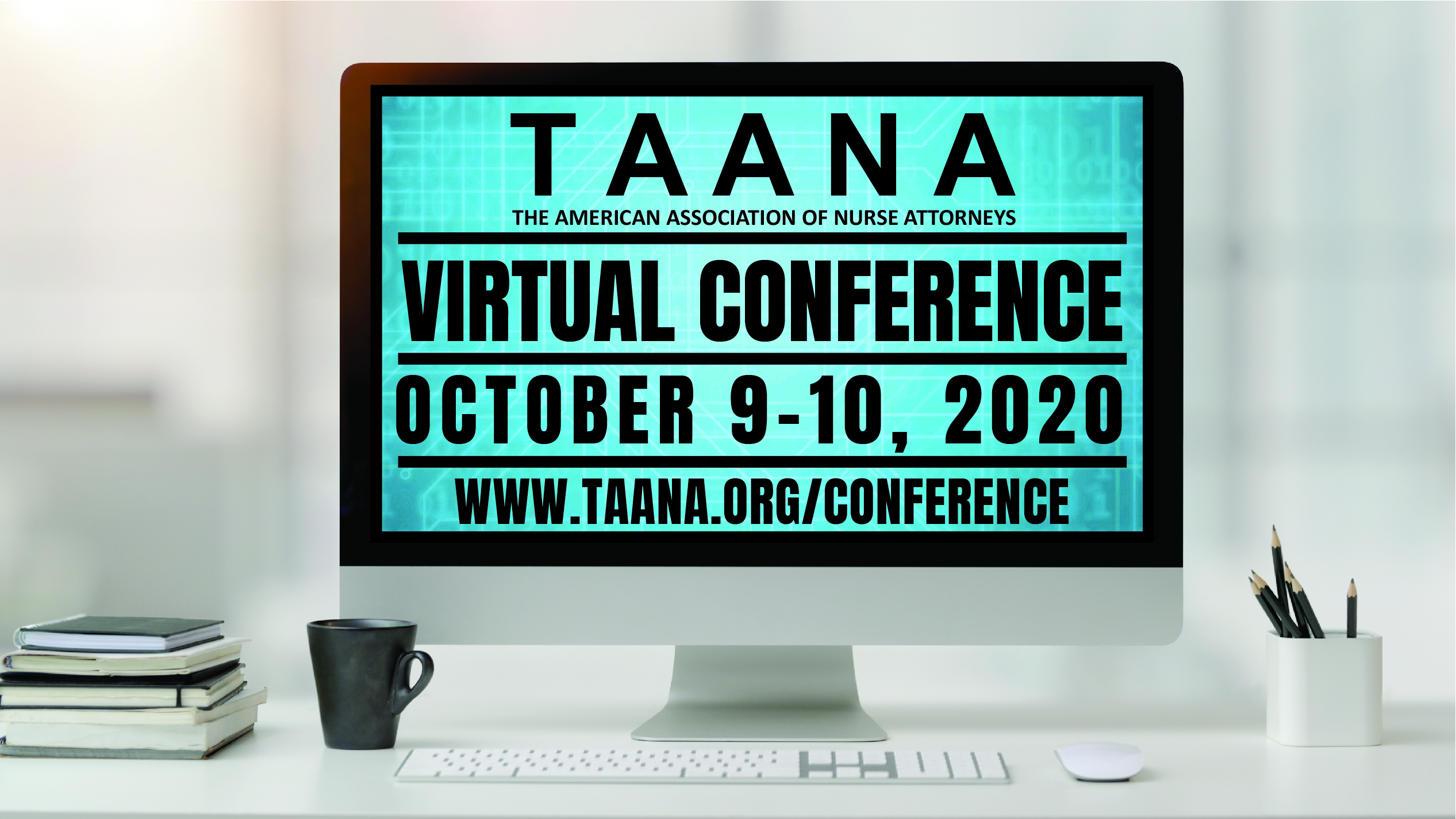 ***AALNC is not affiliated with this conference****

Registration Rates

New Members: $0
Non-Members: $275

Pre-Conference Workshop, Preventing Patient on Nurse Abuse Through Education - $25 (Thuy, Oct 8, 2pm - 4pm eastern; Est 2.00 Nursing CEs)
Virtual Escape Room: $30

Schedule
Thursday, October 8

(Subject to change. Estimated 2.00 Nursing CEs)

2pm - 4pm, Pre-Conference Workshop:
Preventing Patient on Nurse Abuse Through Education
Separate registration fee of $25 required. More information coming soon, sign up using the online conference registration form.

Friday, October 9

(Subject to change. All times are eastern. Visit http://taana.org/2020/schedule for full schedule, objectives and CE/CLE information.)

11am - 12noon
Session 1. Keynote Presentation: National Practitioner Data Bank: Reporting Requirements, Compliance & A Nurse's Possible Response Actions

Kathleen Russell, JD, MN, RN; National Council of State Boards of Nursing; Chicago, Illinois

12noon - 1pm
Session 2. How to Bring the Power of Agility to your Business through Branding

Natasha Davis, MBA-M, BSN-RN, CEME, CSMA; Impact Branding Consulting, Inc; Snellville, Georgia

1:15pm - 2:15pm
Session 3. Communication and Resolution Programs: At the Tipping Point?

Jonathan Stewart, JD, MS, RN, CPPS, CPHRM; BETA Healthcare Group; Vancouver, Washington

2:15pm - 3:15pm
Poster Session (Pre-Recorded) and Awards Ceremony (Live)

3:30pm - 4:30pm
Session 4. Nursing Students Perceived Impact of Simulated Legal and Ethical Experiences on Their Nursing Practice and Documentation

Diane Knoblauch, JD, MSN, RN; Knoblauch Law Offices; Ohio/Michigan

4:30pm - 5:30pm
Session 5. NSO Presentation

Jennifer Flynn, CPHRM; Aon/Nurses Service Organization (NSO); Fort Washington, Pennsylvania

5:30pm
Group Event: Virtual Escape Room (separate registration fee)
Saturday, October 10

(Subject to change. All times are eastern. Visit http://taana.org/2020/schedule for full schedule, objectives and CE/CLE information.)

11am - 12noon
Session 6. "Seeing is Believing": Use of Video In and Out of the Courtroom for Trial and Mediation

Susan Haibeck, RN MS CLNC; Haibeck and Associates Legal Nurse Consulting; Elmhurst, Illinois

Gera-Lind Kolarik, President ; Evidence Video; Chicago, Illinois

12noon - 1pm
Session 7. Career Options for Nurse Attorneys

Eileen Talamante, RN, BSN, JD; Goodman Allen Donnelly PLLC;
Glen Allen, Virginia

1:15pm - 2:15pm
Session 8. Wellness Strategies for the Legal Community

Lita Abella, JD; The State Bar of California; Los Angeles, California

2:15pm - 3:15pm
TAANA Annual Business Meeting

3:30pm - 4:30pm
Session 9. Effective Use of Technology for Nurse Attorneys

Lorie Brown, RN, MN, JD; Brown Law Office, PC; Indianapolis, Indiana

4:30pm - 5:30pm
Session 10. Distraction in Healthcare: Risks to Providers and Patients

Michelle Swift, CPPS, CPHRM, RN, JD; The Doctors Company; Placitas, New Mexico

5:30pm
Virtual Happy Hour and Networking (open to all attendees)
Check out the latest issue of our very own newsletter - the LiNC!
Download PDF
Kudos to our LiNC editor, Stephanie Kress, for putting together another wonderful issue.
The 2020 AALNC Pittsburgh Chapter Bylaws are now available.
Time to Renew your AALNC Membership!
A friendly reminder to renew your AALNC membership. You must be member of the national AALNC to be a Pittsburgh AALNC member.

It's also a good time to register for the AALNC Forum in Denver, CO on April 24-25, 2020. Check out http://www.aalnc.org for more info.